About the Invershin Hotel
We offer a selection of home cooked evening meals in our bar, or if you prefer, our conservatory overlooking the Kyle of Sutherland.  All our fish and meat is locally sourced and when possible,we use vegetables from our garden.  The menu varies, depending on what catch we have.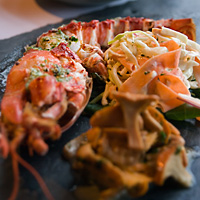 Grilled lobster, garlic butter
Our wee bar is the heart of Invershin, here you can enjoy a real ale or 'a wee drammy' from our selection of fine Scottish malt whiskies, whilst enjoying some banter with the locals.  We also have regular music sessions, usually on a Friday, however these can be rather unplanned and spontanious, so you may well be lucky enough to catch one whatever night you are staying.
Our main aim at Invershin is for you to relax, unwind, and enjoy yourself.....'yer in the highlands noo'